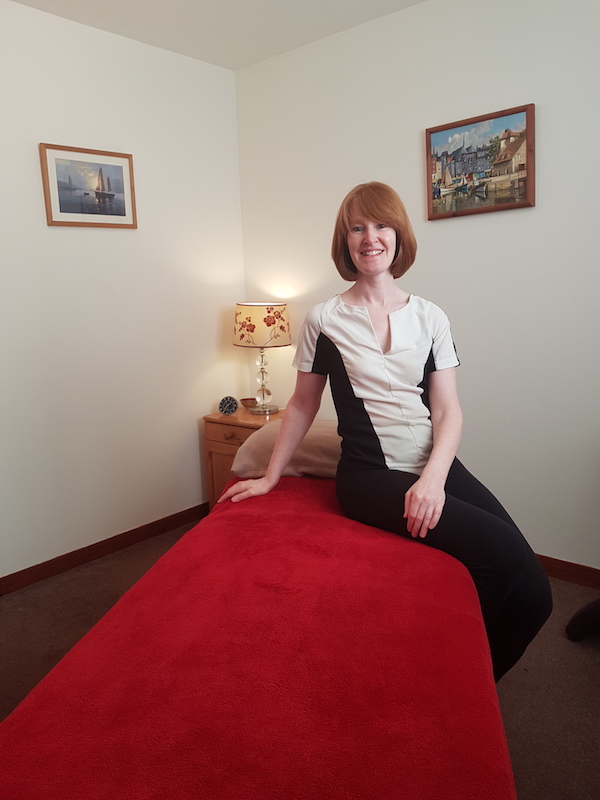 Hello and welcome to the website. I've lived in Linlithgow since 1999 with my husband and have 2 children. I've always been interested in sports, with a keen interest in health and wellbeing. As a teenager I was in the Scottish Gymnastics Team. I then went on to compete in long distance running and a few triathlons, as well as being a keen hillwalker and recreational skier.
In my own sporting life I have sustained injuries, and know the difference a good treatment can make, whether it be minor niggles or a more problematic injury. As a result I developed a real interest in this area and now wish to help others. Diplomas in Swedish Massage, Aromatherapy, Reflexology, Sports and Remedial Massage and Advanced Remedial Massage followed. Other certified courses include Indian Head Massage, Natural Lift Facial Massage, Pregnancy Massage, Thai Foot Massage, Core Myofascial Release and Craniosacral Therapy Level 1. I have an ongoing commitment to Continuing Professional Development.
My client base is varied and covers all age ranges. I treat runners, cyclists, swimmers, triathletes, golfers, retired people, office based clients, indeed anyone who wishes relaxation or relief from muscular aches and pains. I truly wish to make a difference to the health, pain relief and wellbeing of my clients.
With regard to my Organic Facials I chose the Inlight Beauty brand for the quality and purity of their award winning products, which are all certified 100% organic by the Soil Association. I can't sing the praises of this organic skincare range enough. I try and follow an Eco friendly lifestyle as much as possible, and this brand fits with my natural lifestyle philosophy. Indeed all my massage oils are certified organic.
I have many years of massage experience having started in 2001. Should you require relaxation due to the stresses and strains of life, or deep tissue massage to ease pain and rebalance the body, a treatment plan can be tailored for you.
A full consultation with medical history will be completed prior to any treatment being carried out. Compliance with professional codes of conduct also ensures all treatment is confidential and offered in a comfortable environment.